The Origin of SEE
---
http://www.sina.com.cn 2005/06/28 17:59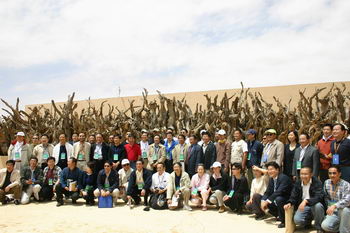 In 2001, Mr. Song Jun, a Chinese entrepreneur, invested RMB 50,000,000 to a project of Moon Lake Ecological Tourism Zone in Alxa League of Inner Mongolia . During the 3 years subsequent to its completion, this desert ecology scenic spot proved to be appealing to more than hundred of Chinese entrepreneurs, such as Liu Xiaoguang, General Manager of Beijing Capital Group; Lin Rongqiang, Chairman of Board of Tsinghua Tongfang Environment Co., Ltd.; Ren Jingxi, Chairman of Board of Nanyang Education Group; Jiao Jialiang, Chairman of Board of Panlong Yunhai Pharmaceutical Group; Zhang Shuxin, Chairman of Board of Genesis Capital; Liu Jing, President of Zhongmin Group; Shi Yuzhu, Chairman of Board of Giant Investment Co., Ltd, Wang Yan ,President and CEO of Sina. All of them experienced profoundly the serious desertification of Northwest China in this boundless desert. Alxa is a seedbed of sandstorms endangering Beijing in recent years, which approaches North China with an annual speed at 1000 km2 of desert area (equivalent to the area of a medium-size county town), exerting an impact on southeast coastal areas as well as parts of Japan and Korea. It is the severe challenges posed by sandstorms that arouse a sense of social responsibility shared by the one hundred Chinese entrepreneurs, who make concerted efforts to improve and restore ecological environment in Alxa, Inner Mongolia, keep within limits or prevent sandstorms from occurring, and urge more Chinese entrepreneurs to adopt a proactive stance toward social responsibility.
  In Jun. 5, 2004, those Chinese entrepreneurs set up a landmark in the vast Tengger Desert, representing the establishment of Alxa SEE Ecological Association (SEE) —— the first nongovernmental public welfare organization in China, composed of 80 Entrepreneurs with Society responsibility, namely charter members, who strived to protect earth Ecology and promised to make an annual investment of RMB¥100,000 for ten years successively, aiming at the goal of Chinese ecological environment protection first by slowing down sandstorms in Alxa, and promotion of harmonies between human and nature, between human and the society, between human and human.
  As what the Chairman of Director of the association said, this is a significant public welfare cause, an ambitious cause extremely hard and bitter yet meaningful. Current investment is just a seed fund in the hope of attracting more and more contributions in future for environment protection cause of human in 21 century. Besides substantial economic value, a most outstanding entrepreneur should also exhibit a strong social value, which incarnates the new ideal, spirit and faith of the whole human being. Alxa is a brand-new starting line for Chinese entrepreneurs to show their collectivistic consciousness and fulfill their social responsibility!